(Bio is suspected to change at any time.)
(Character template made by Artemis)
◆◆◆◆◆◈◆◆◆◆◆
▕▔▔▔▔▔▔▔▔▔▔▔▔▔▔▔▏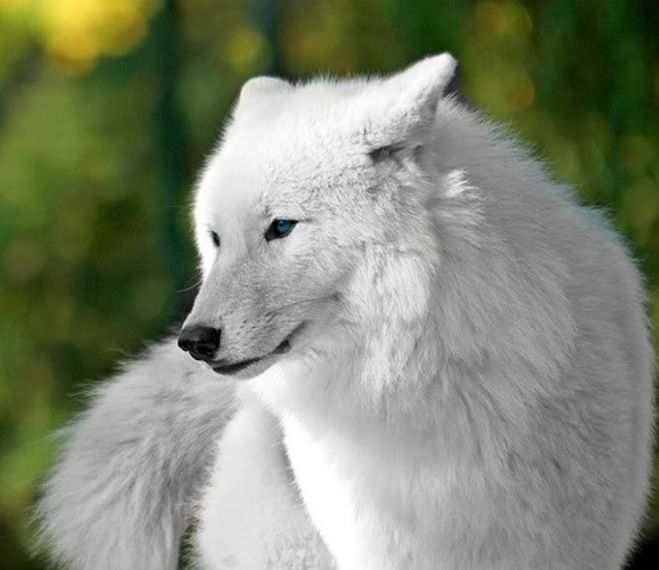 ▕▁▁▁▁▁▁▁▁▁▁▁▁▁▁▁▏

◤                                   ◥
BASIC INFO
◣                                   ◢
———————————
【Name】
Eira
【Meaning of Name】
Eira, a female name originating from the Norse goddess Eir. Eira, a female name in Wales also meaning "snow" in the Welsh language. Eira, a Sanskrit female name pronounced 'ih-RAH', meaning "the earth" and a name of the Goddess Saraswati, Goddess of Wisdom.
【Nickname(s)】
Alpha
【Origin of Nicknames】
Alpha- for being alpha of fallen tree
【Rank】
Alpha
【Clan】
The Fallen Tree
【Age】
3 Years
【Gender】
Female
【Species】
Arctic Wolf
【Zodiac Sign】
Aquarius
【Birthday】
February 14
【Birthplace】
Far north arctic regions of North America
【Sexual Orientation】
Straight
———————————
▕▔▔▔▔▔▔▔▔▔▔▔▔▔▔▔▏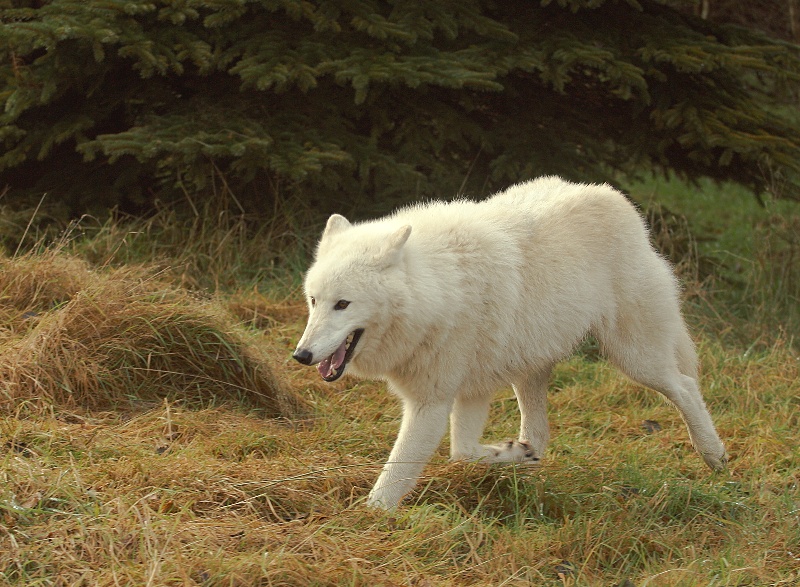 ▕▁▁▁▁▁▁▁▁▁▁▁▁▁▁▁▏
◤                                   ◥
APPEARANCE
◣                                   ◢
———————————
【Height】
2.5 feet
【Weight】
100 pounds
【Tail Span】
2 feet
【Body Build】
Long legged, some muscle, thick furred
【Eye Color】
Light Blue
【Pelt Color】
White
【Scars】
No scars
【Miscellaeneous】
pelt changes slightly with the season. More ivory in warm seasons and snowy white in cold seasons.
﹃Brief Descriptive Version﹄
Eira is a gorgeous white arctic wolf with a soft thick pelt. Her eyes are a rare shade of light blue.
﹃﹄
protective
﹃﹄
proud
﹃﹄
stern
﹃﹄
loving
﹃﹄
friendly
【Overall Personality】
Eira is a proud loving wolf who cares for all pack members. However, she does not tolerate any treason or disobedience and will punish accordingly. She will allow people to explain themselves first. She has a real soft spot for pups.
———————————

▕▔▔▔▔▔▔▔▔▔▔▔▔▔▔▔▏

(Image)

▕▁▁▁▁▁▁▁▁▁▁▁▁▁▁▁▏

◤                                   ◥
CHARACTER
◣                                   ◢

———————————

【Optimist or Pessimist】
Optimist

【Introvert or Extrovert】
Extrovert

【Daredevil or Cautious】
Cautious

【Logical or Emotional】
Logical

【Disorderly or Neat】
Neat

【Working or Relaxing】
Relaxing

【Confident or Unsure】
Confident

【Impulsive or Calm】
Calm

【Cold or Amiable】
Amiable

———————————

▕▔▔▔▔▔▔▔▔▔▔▔▔▔▔▔▏

(Image)

▕▁▁▁▁▁▁▁▁▁▁▁▁▁▁▁▏

◤                                                 ◥
FAMILY & RELATIONSHIPS
◣                                                 ◢

———————————

【Family Members】
Mother- Hera
Father- Thunder
Brother- Hades

【Deceased Family Members】
Hera
Thunder

【Alive Family members】
Hades

【Family Relationships】
Hades- whereabouts unknown

【Friendships】
Artemis- beta and friend

【Crushes】
none

【Current Relationship】
single

———————————

▕▔▔▔▔▔▔▔▔▔▔▔▔▔▔▔▏

(Image)

▕▁▁▁▁▁▁▁▁▁▁▁▁▁▁▁▏

◤                                                 ◥
BACKGROUND
◣                                                 ◢

———————————

﹃Pup﹄
Eira grew up in a small pack with her mother, father, and brother. She was born on a cool spring night in the far north America. She lived a normal pup hood with her family nothing significant occurring.

﹃Yearling﹄
Once she hit a year old things began to change. Her pack was invaded and her parents were killed by a rival pack. Eira and her brother were lucky enough to escape but were separated and Hades whereabouts is unknown.
﹃Young Adult﹄
At 1.5 years old she came across hidden bloods and was happily welcomed to the pack.
Over time she began to work her way up the ranks as a talented hunter and fighter. She was well respected in the pack despite being from another place.

﹃Adult﹄
After making her way up the ranks in hunting and fighting. She was soon chosen to be beta of the pack for her high respect among the ranks. The alpha never had pups to succeed them. So once the alpha passes of old age she was promoted to alpha of the pack and remains so.
———————————

◆◆◆◆◆◈◆◆◆◆◆