(Bio is suspected to change at any time.)
◤                                                 ◥
Theme Song
◣                                                 ◢
◆◆◆◆◆◈◆◆◆◆◆
"In winters arms I feel at home. That familiar hollow breath of cold. It calms me, as the wind sings like a Mother's heavenly lullaby. The snowflakes fall, embracing my body of white. It freezes my heart as a shell encases it to shelter me from the emotions that linger inside. The storm drowns out the sound of those who call my name. Countless cries, left unanswered as it drifts into the dull, lifeless sky. Pawsteps fade, losing the way of those who dare follow. Visibility faltered, seen as a ghost that silently roams with no destination in mind. Truly there is a bond between this grueling cold and I. Perhaps, we share things in common. Or... maybe it is a parasite that curses my very existence. Nonetheless, it is the only sanctuary that remains. My home..."
▕▔▔▔▔▔▔▔▔▔▔▔▔▔▔▔▏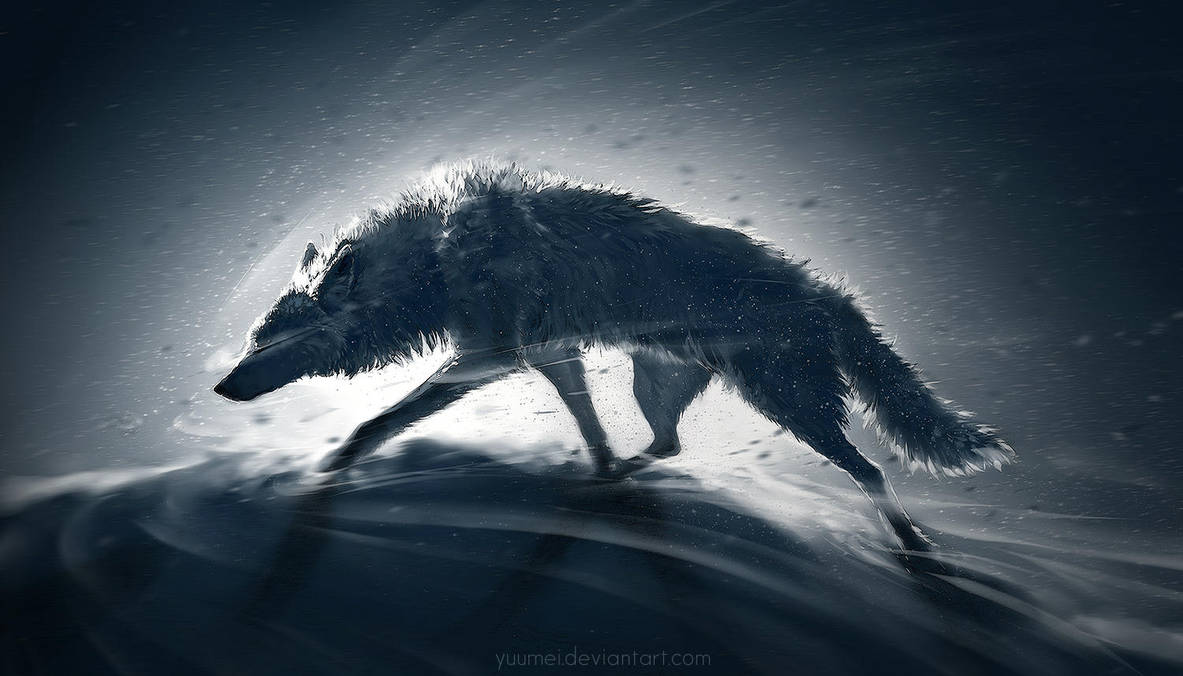 ▕▁▁▁▁▁▁▁▁▁▁▁▁▁▁▁▏

◤                                   ◥
BASIC INFO
◣                                   ◢
———————————
【Name】
【Meaning of Name】
Depicted by northern peak wolves as the "Wandering Ivory Soul".

【Nickname(s)】
Arti | Snowball
【Origin of Nicknames】
-Arti- A common nickname used by her mother who had long since passed.
.̷̘͖͊̍̌̒̊͋.̷̙̲̱̺͇̌̓͘.̷̥̝̰͍̣̔̀ͅ
-Snowball- Is seemingly attracted to winter more than any other.
【Rank】
Beta
【Age】
3 Years | 5 Months | 13 Moons
【Gender】
Male
【Species】
Arctic/Tundra Wolf Crossbreed
【Zodiac Sign】
Capricorn
【Birthday】
December 24
【Birthplace】
Helsif Ravine, Northern Peaks
【Sexual Orientation】
Straight
———————————
▕▔▔▔▔▔▔▔▔▔▔▔▔▔▔▔▏
▕▁▁▁▁▁▁▁▁▁▁▁▁▁▁▁▏
◤                                   ◥
APPEARANCE
◣                                   ◢
———————————
【Height】
2'9"
【Weight】
71lb
【Tail Span】
1'6"
【Body Build】
Slim
【Eye Color】
Sky Blue
【Pelt Color】
Ivory
【Scars】
N/A
【Miscellaeneous】
N/A
﹃Brief Descriptive Version﹄
Artemis has a long and silky white coat with soft thick underfur. The tail is rather bushy, and the legs aren't particularly as lanky in comparison to most Arctic wolves. This physical attribute resides from the Tundra family. His paws are large and digitate with non-retractable claws. Both ears are slightly rounded yet well defined, and the male's face isn't as pointed as other species of wolves. Sky blue hued eyes occasionally dull during specified periods, although it is rather rare.
———————————
▕▔▔▔▔▔▔▔▔▔▔▔▔▔▔▔▏
▕▁▁▁▁▁▁▁▁▁▁▁▁▁▁▁▏
◤                                   ◥
PERSONALITY
◣                                   ◢
———————————
﹃Studios﹄
Artemis takes an interest in learning. Primarily the works of others who focused a majority of their life through honing skills they've mastered. There is never perfection. Only room for improvement.
﹃Creative﹄
His thinking process is unique indeed. Scenarios that require focus and hard thinking are an easy obstacle to overcome for Artemis. If there is no way around the issue at hand, he will create one. It is the art of improvisation. Something that he is fond of.
﹃Placid﹄
Artemis is a wolf who is emotionally steady and is likely to be the least ruffled by anything provoking at a physical or emotional level.
﹃Protective﹄
Appearing as instinct, Artemis will take the initiative in preventing harm, watching over those who run the risk of being injured. As if gifted with a third eye, he will do his best to ensure that no one is a casualty, even if it were to cost his own.
﹃Stoic﹄
Despite any tribulations or struggles that Artemis may endure, the male suppresses any form of heartache or emotional discomfort, feeling as those it may burden other when it isn't needed. Preferably, he tends to do this, only focusing on the issues of others rather than himself.
Ḧ̵̟̦́̇̾é̸͕͖̩̕l̵̨̪̣͂̏p̷̠͊ͅ ̴̖̓͠m̶̯͚̹̃̔͐ẻ̶̫̻̩ ̵̜̗̂ř̷͇̒̊e̶̝͎̿̈́̄m̶̠̑̋e̶͉̽͐̿m̵͇̍b̸̡̼̍͑ę̷̓̈͗r̶̰̟̼͂͛͝.̷̫̗͚̈́̓͝.̶̲͔̹͋.̶̤̬̭̍͒
———————————
▕▔▔▔▔▔▔▔▔▔▔▔▔▔▔▔▏
▕▁▁▁▁▁▁▁▁▁▁▁▁▁▁▁▏
◤                                   ◥
CHARACTER
◣                                   ◢
———————————
【Optimist or Pessimist】
Optimisitc
【Introvert or Extrovert】
Undefinable
【Daredevil or Cautious】
Cautious
【Logical or Emotional】
Logical
【Disorderly or Neat】
Neat
【Working or Relaxing】
Working
【Confident or Unsure】
Confident
【Impulsive or Calm】
Calm
【Cold or Amiable】
Amiable
———————————
▕▔▔▔▔▔▔▔▔▔▔▔▔▔▔▔▏
▕▁▁▁▁▁▁▁▁▁▁▁▁▁▁▁▏
◤                                                 ◥
FAMILY & RELATIONSHIPS
◣                                                 ◢
———————————
【Family Members】
Maya Asmund
Ẁ̷̳̘̏̈́h̸̠̻̗̗̘̓̇y̵̝̠̱͕̥̓̌̏̂͋͑ ̷̢̛̱̭͛͛̏́͒͜͠c̵̠̈́̔̾̍͛͂͘a̷̲͋̕ň̶̬̞̈́̄̂͊'̶̼̰̗͚͕̯̞̊̎̐̚t̵̟̠̘̐̈̆ ̶̜̝̪̐̓͗̑̋̕ͅÏ̸͉̩ ̶̥̘̣͉͇̒̿̑̉͠r̸̨̩̤̞̮̱̍̿e̵̦͚̖̾̓m̶͈͖͎͉̰̔̀̀̋ͅe̸̼̞̺͖̤͕͐́m̸̡̬͖͉̰͎̈́͆͂̔̀̓̓b̵̢̛̦̲͋̽͆ͅe̵̛͉̋̔̿̀͂͝r̵̟̝̾͛.̶͚͉̄͒.̸̢̛͈͚͔̀͊̆̎̔̿.̷̯͈̲͆?̵͕̂̈́̓̀̑̂ ̶̡͔̫̠̖̎͜ͅW̴͓͙̱̭̰̌̔̑h̸̜͓͚̋́͂̐̏͑͛y̸̛̠̍̀̓̅͘ ̴̛̘̜͔͊̀̕d̷͇̖͖͊o̸͈̓̆̾̂̉̃̿ ̸̞͕̟͍̈́Ī̷̧̘̃̈ ̶̖̗̲̼͈̜̝̓͐̀̇̆͘͝f̸̛͖̙͓͔̻́͛͛̿͝͝ͅe̵̪̜͉̙̱̾̿͘͝e̷̢̧͚͆́̈́̎̍l̴͖͚̤͉̀̆͌͐͠ͅ ̵̨̬̮͍̅́̀s̸͙̞̲̫͛̈̓̕o̷̝̭̜̗̪̔͛̚ ̶̧̖̦͈̪͗̄̚̚ͅe̷͚̟͓̯͓̓̃̆͌͑̽͠m̵̲͚̩̦͚̂͝p̶̨̭̮̦̫̫̤̿̅̅̑t̵̡̡͈̯̩̀͛̎̚y̴̧̛̳͎̗̝͙͗̎̈.̵̱̲͉̖̬̓̈̄͆̎̆͜͠.̴̡̥͇̅̽̏̍͒̚͝.̷̢̦̟̭̈́̿͒?̴̝̻̖͔͉̥͉́́
【Deceased Family Members】
Maya Asmund
【Alive Family members】
-
【Family Relationships】
-Maya Asmund- Adoptive Mother
【Friendships】
|Eira| A good friend of the pack, and respected as an Alpha. Only having been recently nominated as a Beta, as well as introduced into the pack, Artemis has come to good terms with the female.
【Crushes】
NYA
【Current Relationship】
NYA
———————————
▕▔▔▔▔▔▔▔▔▔▔▔▔▔▔▔▏
▕▁▁▁▁▁▁▁▁▁▁▁▁▁▁▁▏
◤                                                 ◥
BACKGROUND
◣                                                 ◢
———————————
﹃Pup﹄
Th-
Ë̶̛̤͔̝͓̻͍͔̈́͂̂̅̽̚͠v̷̥̻͙̋̓̆͘ͅë̸͚̗̣̤͉̫͖́͌͐̐̊̚͝͠͝ŗ̵͚̜̙͓̯̈́̌̓̑̾̕ÿ̵̨̘͚͍̘̘̣͈́̃̊̐ ̷̱̜̞̠̣̤̯̮̬̤̿͆͋̉̑̇̚͘̚͠t̷̢̨̝̮̫̩̙͍̟̅i̵̙̤̯̺̪̤͍̾̑̈́̓̕m̸̬̳̦̗̽͋̆̋͋̋̀̐̓̀ȩ̴̳̩̭̤̱͉͚̉̾̃̊̂̀̅̈̚͝ ̶̰̊̍̄̋͌̈́̋͂̀͛Ĭ̴͍̎̈ ̷̺̙͕̌͑̆̏̍̊̑̍̇ţ̴̰͕̞͚̣̏̐͐̀̎͘ŗ̷͍̤͐̕y̷͎̿́̅͂̋̚ ̵͈̋̑̿t̶̠̼͎̦͒̾̍͒́̇̎͋̈o̴͈̦̐͒̃ ̸̢̬͉͓̲͕̝̇̍̔̓̊͊́ŕ̵͉̀͐̍͝ē̶̡͔̞̩̙͙͈̱͔͙̇̅m̵͔͍͉̯̩̌̑͑̍͗̀e̵̡̲̲̯̯͆̒͜͠m̴̻̜͑͛͌͑͆͗͘ͅb̶̡̥͎͉̰̖̈͗̉̃͑̈́͂̀̊͜ę̴̳̝̪̈́̍̅̋͐̂̆͠ř̷̪̏̐̒̇̈͑̃,̸̛̛̻̮̹̙̹͓̘̈́̑̔̍̈́̏͜͝͝ ̸̩̦̈͌ï̵̖͚͕͙͙̬̹͔͆̾̕t̸̼̄ ̸̢̢͍͎͐̑̈́͠͝ͅh̸̠̼͚͙̱̺͈̀̓̍̏̿͂͆̚ư̷͎̈́́͋̄͝͝ŗ̴̧͖̪͓͉̪̩̭̟́͘t̵̡̺͚̯͋̅̓s̶͈̮̙̦̰̈͊́̑͊́̕̕.̴̯͊̎ͅ.̵̛̝͋͂̓̎͘.̶̭̯̋̋̇̽̉̄ ̴̝̯͗̑͂W̴̜̮͔̯͛̍͆h̸̰͙̭̦̀ẙ̵̳̹̾̏̊̑̚͘ͅͅ.̴͕͈̝̲̩̲̒̒̈́̎̋̿̚͝͠.̷͉̹̩͚̘̘͇̩́̉̈͌.̴̧͎̹̳͋͒́̏͆̎̚͝͝?̸͇͈̤͒͒̎̿̈́ͅ
﹃Yearling﹄
It hurts... It hurts so much. The pain flows through me like a poison, tainting my very soul. I can feel myself descending to a never-ending pit, pulling me down profusely. The light fades, encasing me in darkness. Futile efforts are made to reach out for the little rays of light that still penetrate through. No ambition. No happiness. All but a numbing sadness lingers, drinking the life out of me. Regret and shame make way to the forefront — "What if it all could have been different? What if I had been more dependable?" But the stark reality of my sorrow can't be mitigated, fled from, or forgotten. A vast, dark, clouded sky, hiding the sun. This weight, chaining me down to a gray, washed out musty air, caging me in a cell made specifically for me. Inside, a war begins. The battle between hope, and the void. A hole is carved out from my heart, only to be reminded by her lullaby...



✧ ✧ ✧


Artemis gazed upon the stone grave, compiled by an assortment of rocks stacked atop one another, creating a small hill. Buried beneath it, was the deceased. Maya Asmund, his adoptive mother. Taken by the hands of death, as was a part of Artemis. The crescent moon shined down the clearing, lighting the scenery in a spotlight fashion. The trees swaying to and fro, as a gust of wind swept the very land he stood on. Tears streaked down the male's cheeks, gracefully falling on the lushed greenery. Teeth gritted as if to contain the overwhelming heartache. He knew that his cries would be met with quietude. The strength in every limb was frail, weakened by it all. Until inevitably, Artemis was unable to stay upright, collapsing with a thud. The white wolf's frame laid still, except for the occasional shivers from his emotionally unstable state. Blue orbs were flooded, hazing the vision of the grieving wolf.
"Why did you leave me...? Why...?" he asked.
A question, unanswered. He prayed for a miracle, to any god! That Maya would dig his way out from the burial. Through pain and despair, came exhaustion. Slumber soon arrived, temporarily providing a safe haven in the form of a dream.

Forth came light. The darkness of night, dwindling away. The sky was painted in a black and white, devoid of its usual heavenly blue. A bitter coldness manifested, reaping the vegetation that thrived. Artemis would awaken to this. Presented by the cobble gravestone once again, his sorrow rekindled. Carelessly rising up, a freezing drop of ice connected to the male's muzzle. Dull eyes glanced above. Frozen water droplets, floating down until meeting their fate. The Earth... was crying. A moment of stillness transpired except for the wind. It hummed a tune, one that Artemis would unconsciously follow along in before silencing himself. The intensity of the snow progressively increased, covering the ground in an ivory sheet. Artemis reverted his attention back to the gravestone. He stared, entering deep contemplation. No one will remember her. The life that she lived. The tribulations she endured. The kindness that she portrayed. None of it. It would all be but a memory to him, and him alone. Like a snowflake midst snowfall, it will disappear in the boundless bed of white.
"I guess... this is our final farewell."
those words alone caused Artemis to choke up a tear one last time. This was indeed their goodbye. An aching parting.
"I'll never forget you... I love you, Mom."
The last teardrop slid down a cheek, plunging to the snow, only to be turned to ice mid-way. Unwillingly, the white wolf faced the opposite direction, aimlessly walking in slow strides. he sauntered into the storm, transitioning to a mere silhouette before disappearing entirely.
﹃Young Adult﹄
The concept of time is lost within the unforgiving cold that envelopes my very soul. Even the warmth of the rising sun cannot subdue what has been formed. A cage of ice that was to never falter, compressing every fiber of my emotions tightly together, sealed away to be forgotten. What purpose would they hold now? There was nothing to care for. Nothing to is wary of. The only thing that has ever truly kept the embers from fading was the one who I called a Mother, taken by the grasp of death. The void that has been left behind in my heart is too much to bear. The crunching of the snow under my paws remind me of what has been lost, a curse that would forever haunt me until the end of time. Salvation from this torture was but a long distant memory. The only true cure... was death itself.



✧ ✧ ✧


Artemis traversed a blind path, finding no care in where his paws were taking him. The satisfaction of exploring new land was nonexistent. Pointless, in fact. The once glistening blue eyes that brightened the atmosphere had gone dull. Every muscle ached with each movement, begging to stop. A fog of nothingness engulfed the male's mind. This depressive state was all that the ivory wolf knew now. Solitude strengthens with the snow that plummeted into the land, the creatures of the once thriving forest seeking shelter from the ruthlessness of winter. An evergrowing urge to find bliss in death came to be as time passed. Perhaps through it, tranquility may once again sooth the aching of his soul. Suicide. That would put an end to it all. The prolonged suffering eating away at him will cease at last. Then through the afterlife, he may see the strong-willed silhouette of the one that had raised him, reunited.

The upward slope in which he had taken and the sudden change of wind direction implied that there was an approaching cliffside. The duration of the climb was enough to signify just how high it was. Nearing the edge, the gaze down below and what was to be seen made its statement. This jump would be lethal, which was precisely what was needed. All it took now was to make the final leap. Retracing a few steps backward, the male came to a halt. The space between him and the cliff was only a short ways away. A lifeless gaze observed the short road to "freedom", contemplating what to expect beyond life itself. This was for the betterment of his miserable existence, one that held no purpose. Not anymore. Artemis's death will go unnoticed, just as his mother did. No one will care, and the journeys that he had embarked on in the past will only remain with him alone. He nodded gently as if agreeing with the current situation and its circumstance. This was it. This was the end. Taking a stance, the ivory wolf took a deep breath, aware that it was to be his last. In a sudden jolt forward, Artemis sprinted straight to the edge, closing the gap quickly with every paw step taken. Throughout the entirety of the run, he mentally reminded himself that this needed to be done, for what other reason was there to be alive? Artemis was confident that it will be over soon, but...

...

Artemis slid to a grinding halt. Snow flung forward as patches of it tipped over the edge and fell down below into the bottomless pit. A moment of stillness ensued. Only the mild panting of a perplexed wolf now struggling to understand why he stopped. No, he knew, but he refused to accept it. Something inside him prevented him from pushing onward. Every fiber of his being was frozen in place. The occasional shivers that occurred in his limbs were the futile attempts to move ahead. Stressful grunts were heard, accompanying each try. Why...? It wasn't that he was afraid to die. Far from it. It was the voice of reasoning, desperate to enlighten Artemis with understanding. Inside, a battle between two forces stormed, fighting to conquer the will of a broken wolf.

'Was this what your mother wanted? To end your life after she had tried so hard to grant you a second chance?'

'You don't deserve to live in the life you were given after what you had done.'

'She loved you like her own son. Only you can carry on and live the life that she couldn't.'

'You betrayed her trust at the very end. It was all your fault, and this is the price you are to pay.'

He felt torn. Two sides ripping him in half. The need to die was apparent, but another part of him wanted to preserve his life. This confliction drove Artemis to the brink of insanity. An indecisiveness plagued the confidence of what he chose to do. He'd only grit his teeth in frustration, unable to make up his mind. He wanted to pass, yet couldn't. The commitment wasn't present. All he wanted was for death to wash away the heartache but was denied. Wa this a curse? Perhaps fate? Maybe even karma? Or... was there something more...? The wind died down, and snowfall gradually cleared., allowing for the horizon to be seen. Somewhat. before him was a mountain range, a vast land that was yet to be explored by him. The skies were hued to a bold grey, leaving no trace of blue in sight. He needed to find an answer. This struggle, this... discord, wasn't without ambition. blue eyes gave an outlook to the grand trail ahead. so birthed the embarkment of a new journey.
R̵͇͔͇̺̥̠̊̋̍̂̕͝ẻ̵̗͇̹͕̻̦̳͔̻̥̜̣̝̺̱͂̀̓̈͐͒̽͗́̅̋̚ͅm̶̰͖̘̘̖͕̰͈͇̼͍̝̺͍̣̓̈̀̄̋̽̏͗́͛̈̂͛̃̌͊̾͒̄͜͠ͅḛ̵̀̈̓̈́̄̅͛͊̕m̷̨̨̪̣̭̭̺͙͎̠̼̥͍̮̼̯̻̣̻̤̉́̏b̶̛̥͓̋̓̏͒́͐̔̍̃̑̈́̽ẻ̴̢̡̱̗̳̥̻̫̪̣̹̼̪̘͈̤̯ͅͅṟ̸͍̘̣͕̼͐̃̿͛̐̄̏͊́͐̑̏̅̔́͊̏̕͝.̶̜̹̤͔̈̆.̵̦̞̈́̔͛̿̽͝͝.̸̦̫͓͍̺͙̩̝̆͛͗̓̂̄͜ ̸̧̜͍̄̃̓̀̒̌̄̌́͌̚ͅͅF̷̧̢̧͕̥̰̜͎͇̳̘̦̳̺͚̋́͒̌͌͗͝ȍ̵͕͓̫̞̣̭̓̉̓̎̍̎̔̓͒́̎̀̊̍̄̔̀̿͘ŗ̷̧̙̺̣̪̮̯͓̿̎̎̓̚ǧ̵͍̞̩̳̗̰̠̀̈̃͌̿͌̈́̽̔͒̿͂̎̂͐̌̚͠ȅ̴̜̾̌͒̓͋̚ͅt̸̡̧̤͉͉͍͖̫̗͓͍̠̬̼̖͍̖̰̯͛͐̊͊͂͌͋͘͠͠.̸̣̩̲̫̥̺͉̖̥͔͋̍̀͂̈́͐͛̆͐͜͠.̸̡̼̥͚̠̠̮̱͕̙͑̇̈́̓̑̋͌͠͝.̶̛̛̞̭͓͍̋͑́̒͂͂͒͐̇̂̈́̾̕͘̚.̵̥͉̯̠̎͐̆̑̂̿.̸̧̟̙̥̙̥̣̱͒̌͗̓͆̇̐̀̐̚͝                                                                      
 H̵̨͈͔̰̾̔̇̉̽͋̐͗̊̅̈́̇̒̍̏̈́̓̈́͘̚͝e̵̢̨̧̡̛̙͚̠̼̱̗̘̖̥̲͇̼͔̬̥̘̗̫̾̆̃̄̆̓̃͐̿ŗ̴̧̧͇̻̯̲̳̫̖͚͔̱̟̖̗̮̣͙̺͚͎̣͕̤̥̼̞͖̏̃̆̈́̍̅̓̓̚ ̵̨̛̛̰͚̭̹̠͍̪͓͉̺̪͊̈́͐͋̎̄̀̅͊͊̒͘̕͜͠͝͠l̵̛̛̠͓̅͆̔͌͑͊͗͋̔̒͑͊̾͂̆̌̀͑̒͆͌̔͌̂͘̕̚͠ư̷̡̨̢̨̳̘̙͖̫͙͎͚̩̲͚͈̝͍̦̠̫͚̻̞͈̞̠̪̜̭͖͚̘͂̍̽̊l̸̡̫̭̞̫̥̞̤̣͓̟̞̪̏̓̊̃̾͝l̴̛̈́̈́͒̿̐͆̽̌̌͐ͅa̸̛̳̝̜͈̳̩̥̭̺̘̋̍̂̐̿͌̏̄̒͆̍͆̐̑́̃͊͒̊̈́̿̑̓̚͝͝͝͝b̵̡̜̰̱͓̹̩̻̥̻̩̤̼̳̠̤͍̮̭̭̣͔̖̱̰͔̌̈́́͑̈́̃̓̉̓̓̈͆͊̈́̈̊͋̓͂͋̅͌͌̎́͛̽̂̚͘͜͝͝͝͝ͅy̸̨̬̳͈̝̺̼̩͈̏̄̀̌̽͌́͐͘ ̴̡̧̨̨̡̝͔̗͍͉̤̝͇̦̰̫̹͙̙̻̱̭̣̥̻̀͊̾͗̇͜ͅͅͅi̸̡̨̭̞̦͉̦̗̮̬̩͕͈̻̤͖̪͕̤̫͌͊͒͑̆͑̀͌̓̏͌̋̋̋́͊̾͋̍͊̎̌͊̕͝͠s̸̳͓̘̼̩̲̠̮̱̫̺̣͈̤̗̝̗̱̎͌̏̀̆͜͠ ̷̧͈̞̘͇̥̖̖̤̪̲̹̝̖͎̯̳͚̲͎̺̼̼͕͎͍̭̯̹̪͈̠͒̎͌͜͜͜͠k̶̢̨̢̮͖̦͇̥̘̹̦̝̖͔͔̼͉͙̐̂ͅi̶̡̨̢̖̹̹̱̥͇͔̹̳̘̟͓͖͕̗͕̹̥̰͕̱͍̜̼͍̪̠͈̖̾͒̅̈́͐̌̀̚̚͘͜͝͝ͅļ̷̦̭͓̹̻̩̖̳̋̎̓͒̂͛̆̅͊̊͗͑̈̈́̄̀ļ̴̨̛̙̼͚̳̟̝͎̜̜̞̼̦̭̪̯͇̻̲͓̻͉̲̹̞͙͕͙̹͖͆̀̔͗̈̂̊͆͒̆͌͘͝į̵̜͙̜̘͓̙̜͎̦́͛̿̆͆̑̉́͐̔̉̃̿͊͘͜͜ņ̴̛̯̩͖̣̼͕̞̬̘͔͚͚̻̪͇͙̘̟̘̤̩̞̥̱̘̗͍̞̒̅͆̎̀́̓̿̈́̐́̀͑̓͑͘͜͝ͅͅͅg̵̨̺̣̖̤̥͎͎̹̉̂̇̃́̈́́̓̉̇̃͐̉̉̄́̚͘͠͠͝ ̸̨̧̧͔̜̳̬̳͔̳̳͈̯̠̦͍̳͈̩͇̥͍̻͎̰͍̱̓̂̎̆̿̂̐̿̒͗͜͠͠ͅm̸̨̡̡̧͇̯̮̹̙͇̱̭̝̪͍̮̙͖̙͕̞̘̽̑̎̐̇͒̔̋̑͑̒̾̕͠͝ȩ̷̧̛̟̲͎̃͂́͛͑̄͗̍̑̐͗̉̃͑̇̈́̍̔̅́͂̅́̽̍͒̅͘.̵͉̈̃.̶̢̢̛̣̦̦͕̲̻͙̯̼̻͔̣̭̱͛̓̀͋̏̐̃̄̀̐͌̿̔̃͂̈́͘͝͝ͅ.̴̧̟̼̫͍̺̦͙̤̠̝̱̹̟̼̰̲̻͉̠̯͕̠̤̙̜͖́͂̂̐̀̅̿́͋̀͆̍̾̎̅̆̌̓̀͋̅̓̅̃̉̈̕̚͜͠͝͝ͅ
L̵̡̧̲̫̊́̈̀͌͛̽̇͌̏͐̽͐͐̌̓̇̉̒̏̿̔̒͛͋̈́͑̾̂̊̇͆́̚͘̕͘͝e̵̳̥̫͒̔̋͒̀̓̎͂̑̕ṱ̶̨̡̨̨̧̨̢̛̛̪̝̬̪̦̤̥̹̳̹͉̜̠̥̗̬͔͕̜̖̱̻̫̠̓̇͊͐̑̓̎̆̈́̓̊̾͆̌̏̐́͒̋́̈͊̅̅̃͐͘̕͜͠͠ͅ ̵̖̉̈́̑̍̽̒͑̈́ṁ̷̢̬͕͎̗̟̯͎̖͍̬̘͖̻̼̜̝̝̺̣̯̭̖̱͍͙̙̯͎̺͖́͌͆̊̆͋͛̔͒̀̄́̈̈̂̊̓͗̈́͂̐͌̄͜͝͝͝ͅͅe̷̢̧̧̡̡̛͔̮̳̪̠̼̫̼̺̼̣̳̩̲̝̦̹̰̺̟̺͓͔̦͖̹̯͍̯̱͎̝̮͑̍̈́̆̅̑͒̅̿̉͂̆̍̐͐͝͝ͅ ̴̢̨̧̫̯͍͇̦͚̖̤̲̹̦͚̻̼̗͖̙̪̥̋̀͐̅͒̀̀͑̍͋̄͒̄̓́̽́͌͌̆̈́͒̔̈̕̚͘̕̕͠͝d̷̨̨̧̛̮̯̩͔̹̻̱̮̜̮͔̥̩̗̝̬̥̺̹̗͔͚̫͆̉̽̅͌̓̽̆͊̀̿į̴̨̧̛̭͙̤̦̲͇̙̱̯̝͔͇̫̝̗̈́́̿͂̏͂̐̑̊̿͆̃̓͛͜͠e̸̖͌̈̈͗̽̀̌͛̐̍̔͒́́̈́̏͑̍͆͘̚͝.̴̢̧̛̻̖̞̤̝̲͖͖͓͚̼̼̺͂̇͒̐̒͒͊̄͌̾̈́͌̅̆̄̀͐́̓̆͗́̅̈́̊́̄́͂͆́̀̚̚̚͠͝.̶̧̢̨̛͚̳̯͔͍̰̘͕͎͎̻͓͉̲͍̱̹̭͖̱̹͓̰̩̲͎͖̉̄͗́̀̽͋̂͆͂̾̈́͂̔̈̐͐͗̉̍̊̓̈́̐̈̈͘.̶̢̧̘͚̝̯̩̰̄̑͊̌̋͑͊̊̀̈́̏͛̚͘͝
Wherever there is light Artemis, I exist. In the darkness, I lie in wait... Watching...
———————————
◆◆◆◆◆◈◆◆◆◆◆